Old age is more often associated with a progressive loss of muscle mass, strength and functional performance. Climbing the stairs, getting out of a low chair or getting up from the floor can feel difficult. This form of loss of muscle mass is often regarded as a 'given' or 'normal healthy ageing'.  However, the good news is this is not always or need not be the case. This loss of strength and function can be attributed more to a change of lifestyle as we age and retire. We often becoming more sedentary and reduce the amount of exercise we do, rather than normal changes associated with ageing.
 " Use it or lose it"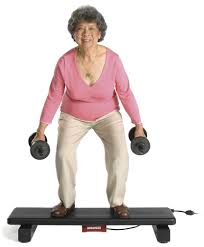 The loss of muscle bulk and function appears to be a natural ageing process in sedentary adults, not healthy active ones.
8 Top tips for building or maintaining  healthy muscle .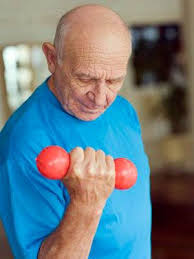 Exercise four times per week. Combine the following:  Slow controlled resistance training such as weight training or the use of body weight (Squats, Calf raisers, Push-ups) or resistance bands, and brisk Aerobic workouts such as walking, cycling or Swimming.
Seek an achievable and sustainable programme of exercises backed up by a physiotherapist. Avoid generic advice and programmes off the internet.
Make sure exercise is fun and enjoyable. This way you are more likely to stick at it.
Try something new like Dancing or Nordic walking. These forms of exercise, with a group of like minded people can keep you motivated and stimulate you to work harder.
Gardening for 1 hour or longer.
Take a look at your general lifestyle and look for changes you can make. Walking instead of using the car, or just better time management to allow quality time to devote to exercise.
Yoga and Pilates! These are not just a gentle stretch or slow workouts on mats. They can work you very hard and build strength.
Sleep well. Sleep is when the body heals and muscle building is at its greatest. If you are a poor sleeper look at ways of switching off and relaxing your brain before bed. Try to stick to a regular bed time as routine really does help.
Regular activity can lower your risk of heart disease, stroke, some cancers, depression and dementia.
Moving more helps your thinking skills – like problem-solving, decision-making and remembering facts and words.
Being active can lessen aches and pains, help you stay steady on your feet and boost your mood.
Please click here for more information about exercise and aging.
Here at Penn Farm Physio we aim to keep you active. Please click here for a personalised physiotherapy assessement.
NB: It is always wise to get the all clear from your General Practitioner before any vigorous programme of exercise.